This is an archived article and the information in the article may be outdated. Please look at the time stamp on the story to see when it was last updated.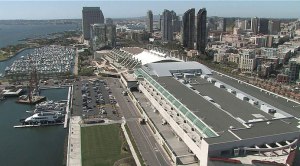 SAN DIEGO — A San Diego Superior Court judge Monday gave his tentative blessing to a plan to fund the expansion of the downtown convention center.
The city of San Diego filed the validation lawsuit because, according to City Attorney Jan Goldsmith, the plan to charge owners of hotel properties a percentage of room rates on a sliding scale entered a gray area of the law.
A citizens group called San Diegans for Open Government and civic activist Mel Shapiro joined in the court action to challenge the plan.
Judge Ronald Prager ruled that the election of hoteliers to assess themselves "conformed with all applicable constitutional provisions, statutes and ordinances." His tentative ruling turned aside nearly all of the opponents' arguments.
However, the judge is scheduled to hear oral arguments on Wednesday. Afterward, he will issue a final ruling.
"I was confident that the City Council moved forward appropriately with our approval of the expansion's financing last year," council President Todd Gloria said. "The judge's validation confirms that the hotel room surcharge agreed to by local hoteliers is a legal and viable way to improve our convention center and further strengthen San Diego's economy."
Under the plan, downtown hotels would be charged 3 percent of room rates, those in Mission Valley and Mission Bay 2 percent and outlying facilities 1 percent, with the money funding most of the expansion.
When the construction work is complete in three or four years, the San Diego Convention Center will have the largest amount of contiguous floor space on the West Coast, according to the city.
Area tourism officials say organizers of the biggest trade shows have been bypassing San Diego because the local facility is not big enough. Comic- Con International, which originated in San Diego, had been courted by other cities but chose to remain when an expansion was promised.
Opponents of the financing plan contended that the assessment was a tax, which requires two-thirds approval in a public vote. The judge, however, agreed with the city's argument that since the tax applied to the hoteliers, they were the ones who should cast ballots.