This is an archived article and the information in the article may be outdated. Please look at the time stamp on the story to see when it was last updated.
SAN DIEGO — At an age when most professional athletes make plans for their next career, 37-year-old Josh Hayes has shifted his cycle into high gear.
"I really have no plans of slowing down," Hayes said.
The Oceanside resident recently won the AMA Superbike title for the third year in a row. His run of success started about the same time he moved west from his native Mississippi to live closer to where his wife, Melissa Parris, a fellow racer and San Diego State University graduate, grew up.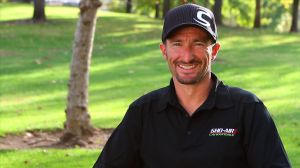 "I don't know if there's any coincidence after moving to Oceanside," Hayes said. "But definitely after meeting my wife. She's pushy and mean and really made sure that I was doing my work at home and making sure I brought my best game and she's been a big part of it."
During the off-season, Hayes switches wheels – from moto to mountain – and recently joined the Sho-Air Cannondale mountain biking team. He said it helps him keep fit and train and also gives him a chance to taste some humble pie.
"It's always going to be tough to go from riding at a really high level to where you are winning on a motorcycle to getting my butt kicked on a mountain bike," Hayes said. "But I am definitely looking forward to maybe turning it around on a few of those guys and getting a little more involved in the mountain bike racing scene."
I recently had a chance to ride along with Hayes and his new teammates, or should I say, ride way behind.
"It's never good to see a journalist whipping up on a pro athlete," Hayes said. "There was fear in my eyes and I tried to make sure I road in front of you for the rest of the ride, even if it killed me."
Hayes racing success and outgoing personality make him the perfect teammate and spokesman for both sports.
And maybe one day, Hayes will move to the mountain bike on a more permanent basis.
But for now, he'll continue to ride towards another Superbike title.