This is an archived article and the information in the article may be outdated. Please look at the time stamp on the story to see when it was last updated.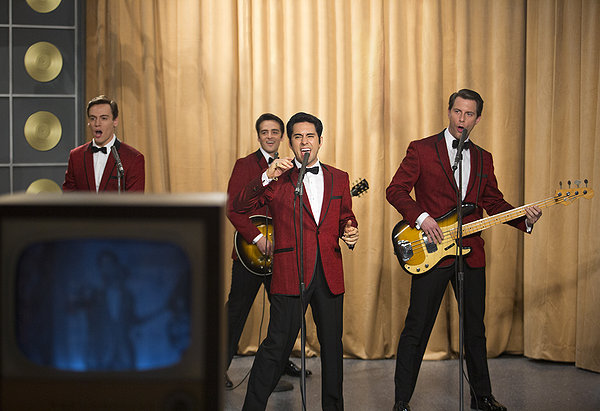 I'm a sucker for music biopics. I was a kid when I watched La Bamba and The Buddy Holly Story, and despite the few corny scenes in those films, I liked them. I'm a fan of Frankie Valli. Saw him in concert, and caught the Jersey Boys musical when it opened here in La Jolla. So I went into this with high expectations. Talk about a let down. It's like going to see your favorite band, and the sound being mixed poorly; the group not performing your favorite numbers, and a beer at the concession stand costing $8. You wish you would've just stayed home and listened to the records.
Perhaps we should give Clint Eastwood a little bit of credit. He's 83 and directing movies. He was directing films in the early '70s, and in the late '70s beating up bikers and his sidekick was an orangutan. Yet if he keeps making poor decisions on scenes in the films he directs (Million Dollar Baby, Gran Torino, Changeling, J. Edgar, Hereafter), perhaps he should kick back in the rocking chair and call it a career. He took a rollicking musical and made it dull. For that, he will never be unforgiven.
I'm also confused as to why he made these Jersey boys sound like they were from Jersey Shore. The Italian caricatures got old fast.
Other critics have complained it's like a "Behind the Music" episode. I wouldn't mind that, because the Four Seasons have an amazing story. It's not just rags-to-riches, but you have millions being owed to the IRS, a mob guy, and bookies. You have Joe Pesci (who would become a big actor decades later) getting the band together; marriages, groupies, jail, and the songs. How do you take those things that really happened and still bore us?
We meet Frankie Valli (John Lloyd Young) before he changed the last name. He's training to become a barber, and gets his big break giving his first shave to a local mob boss (Christopher Walken, who was underused, especially in the closing number). The bigger break came when he sang a song Walken requested. As you saw in the trailers, he exclaims, "The world will hear that voice."
If you're not familiar with the musical (which has been on Broadway and in Vegas for over 10 years), the various band members break the 4th wall and talk to the crowd. It's interesting live to hear each band member tell the story from their eyes, while talking to us in the audience – right before the band bangs out a big number. In the movie, it doesn't work as well. Only band member and bad boy Tommy DeVito (Vincent Piazza of Boardwalk Empire) pulls it off. He's one of the rare ones in this movie that shows he can act.
Another surprising thing about this film is that it's not a musical. Recently it's been hard to define exactly what constitutes a musical on screen. I consider a movie like Once to be a musical, because of the amount of songs in it. Movies like Ray and Walk the Line are biopics. The characters never break into song where dialogue should be. Since it's filmed more like those films, fans of the musical might be a tad disappointed that it's a biopic. So we see the band performing their songs on stage. Sometimes small bars, sometimes the Ed Sullivan Show. We see them recording songs in the studio, or composing them in a living room (with a Clint Eastwood movie in the background, as if that's clever).
The live production had so many more songs, and that adds a certain energy. Eastwood decided on less music, more back-story. It was probably a good decision. If people want to see a cover band, they can do that in Vegas (or at any club, in any city). We go to movies for the story. It's just weird that this isn't the least bid edgy, considering the various stories the band really had to deal with.
This movie was formulaic and filled with clichés. I swear, if another music biopic shows a scene with a DJ locking himself in the studio and playing the song over and over, until police have to break the door down…I'm going to lock myself in a room with the screenwriter that first wrote that for The Buddy Holly Story! (not to mention the fact that no disc jockey ever did that with any Valli songs)
One small complaint. I always thought in the song My Eyes Adored You, it was creepy to sing, "My eyes adored you/though I never laid a hand on you." Nothing romantic about a woman you pine for, and using the phrase,"lay a hand on you." That's something a person says when they're accused of rape. In this movie, it's implied the song is written about his daughter. Now the creepy factor is taken to a whole new level.
I heard that Jon Favreau was supposed to direct this. He did an incredible job combining music with swing dancing in Swingers. Favreau also did a great job with the music in his latest movie Chef. So why don't you compromise? Go see Chef instead, but listen to a Frankie Valli CD on the way there.
This gets 2 stars out of 5.