This is an archived article and the information in the article may be outdated. Please look at the time stamp on the story to see when it was last updated.
SAN DIEGO — Twenty boys from Kyoto, Japan have spent the past week-and-a-half at Torrey Pines High School learning football and English.
The Ritsumeikan Uji High School team, champions of the Kansai American High School football league, came to San Diego to learn the Wing T offense from an expert: former Torrey Pines High School Coach Ed Burke, who spent 21 years coaching and teaching at Torrey.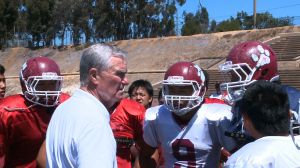 "It has been amazing," Burke said. "I probably would have coached until I was 90 if I had all-Japanese teams."
This marks the sixth time in the last seven years that the 77 year-old Burke has tutored a team from Japan through the Global Football program.
"More than anything else, they are so bright," Burke said. "It's amazing. We taught them a whole new offense and whole new defense in five days."
Burke says he taught the team 17 new offensive plays and 14 new defensive sets, which they put into play last Friday in a scrimmage against a local high school team.
"They executed like they had been practicing for five years," Burke said.
The players also spend an hour per day in the weight room, and two hours in English class, using music to help them learn. They especially enjoyed the song "We Will Rock You" by Queen.
"They're eager to learn the culture, they want to know what kind of music we listen to," said Torrey Pines English teacher Brenda Robinette. "They're interested in pronouncing the words correctly. They're a lot of fun."
But these boys didn't come here just for fun, they came here, to return home a winner.
"All the Japanese-American football players, nobody knows Wing T," said wide receiver/defensive back Yoshihito Ohny. "So we will use Wing T formation in Japan and we will win the championship."