This is an archived article and the information in the article may be outdated. Please look at the time stamp on the story to see when it was last updated.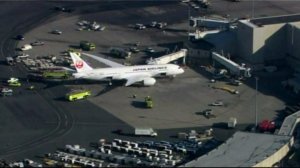 SAN DIEGO — Japan Airlines announced Tuesday it plans to resume Boeing 787 Dreamliner flights between Tokyo and San Diego beginning June 1.
San Diego's first nonstop service to Asia was hailed when it started in December as a boon for the regional economy. The 787s were grounded in January because of battery problems.
The carrier resumed the route three times weekly with a larger but less efficient Boeing 777.    Regulators and airlines recently approved fixes for the Dreamliner, and Ethiopian Airlines successfully put the twin-jet back into operation last weekend.
The San Diego-Tokyo run will be daily when it resumes, "after completely confirming the safety and reliability of the aircraft, including the proper installation of the improvements," Japan Airlines said in its announcement.
The carrier said it will restart flights from routes to Boston and Helsinki, Finland, that same day.