This is an archived article and the information in the article may be outdated. Please look at the time stamp on the story to see when it was last updated.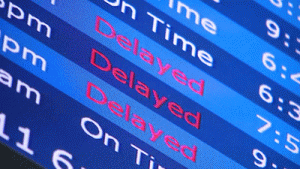 Storms that hit the Midwest and East Coast last month were to blame for 49,000 canceled flights, the highest number for any January in the last five years.
An additional 300,000 flights were delayed last month by U.S. airlines.
The cancellations last month even exceeded those caused by Hurricane Sandy in October and November of 2013, according to an analysis from MasFlight, an aviation operations technology company based in Bethesda, Md.
January's airline woes cost passengers more than $2.5 billion in lost productivity, hotel expenses and meals and inflicted $75 million to 150 million in losses to the airline industry, MasFlight said.
Two airline regulations enacted in recent years contributed to the high numbers of cancellations and delays, according to MasFlight.
Under a rule that took effect in 2010, airlines can be fined as much as $27,500 per passenger for keeping fliers on domestic flights stranded on delayed planes for more than three hours without an opportunity to leave the plane. Starting in 2011, airlines can face the same penalty if they leave fliers stranded on international flights for more than four hours.