This is an archived article and the information in the article may be outdated. Please look at the time stamp on the story to see when it was last updated.
JAMUL, Calif. – Jamul residents packed a community meeting Wednesday to support a series of lawsuits seeking to halt construction of a casino in their small East County community.
Construction of the $360 million casino at Jamul Indian Village is just getting underway, but residents are fighting to stop it.
"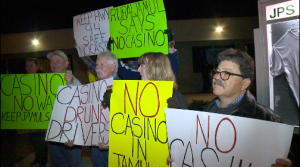 Bringing a casino here would just put our sleepy town away," said Mark Crossman, Jamul resident. "We have a bunch a nice neighbors and it's just a little place where we don't need anything like this."
Crossman and hundreds of other residents attended a community meeting at Jamul Primary School to hear an update from the Jamul Action Committee, local leaders and attorneys.
"We do unapologetically oppose the construction of any commercial project of this magnitude on that location by anyone at any time," said Glenn Revell, Jamul Action Committee member.
The County of San Diego filed a lawsuit last month, claiming Caltrans is not complying with state environmental law. The Jamul Action Committee also filed a lawsuit against Caltrans in state court. A federal lawsuit is also pending.
"What we're really seeking is to have the court determine whether or not the legal authority exists to go ahead and operate the casino or not," said Revell. "And if we're successful in that, we believe we have compelling legal argument to believe that we will be, then there's no casino there and the development stops."
Keeping the court battle going costs money, which is why San Diego County Supervisor Dianne Jacob is urging residents to donate.
"If we're gonna win this battle it's gonna be in the courts and it's gonna take a legal defense fund," she said. "A strong fund in order to fight that fight."
If the crowd was any indication, there will be plenty of support. The fight against a casino in Jamul dates back to 1992 and residents said they had no plan to give up now.
Revell said the federal lawsuit is expected to be heard March 28. He said the JAC state case should be heard within  the next 90 days. In the meantime, the JAC is asking the state to halt all off-site construction activity until the state lawsuit is heard.