This is an archived article and the information in the article may be outdated. Please look at the time stamp on the story to see when it was last updated.
(CNN) — A few weeks before James DiMaggio allegedly kidnapped Hannah Anderson, his sister said she told him that the 16-year-old girl was "trouble" and that he needed to "watch out."
In a sometimes contentious interview with CNN's Piers Morgan on Tuesday night, Lora DiMaggio held out the possibly that her brother was a victim, saying there were "a lot of holes" in the case.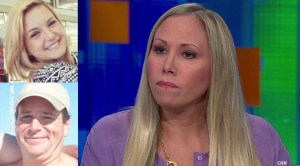 "It's very hard to believe that someone who was just so genuine and so dependable every single solitary day just woke up one day and decided to do this," she said.
Instead, she cast doubt on Anderson.
"I remember very vividly telling my brother, 'She's trouble,'" she said. "I said, 'You need to watch out for that one.'"
James DiMaggio allegedly kidnapped Hannah on August 4. Police later found the bodies of her mother and brother at his burned home, about an hour east of San Diego.
A police affidavit claims that mother Christina Anderson and brother Ethan had been "tortured and killed" by James DiMaggio before he set his home and garage ablaze.
After evading authorities for a week, he was spotted in the Idaho wilderness on August 10, nearly 1,000 miles from where the alleged kidnapping occurred.
An FBI agent shot him dead, and Hannah was returned to her family in Southern California.
Lora DiMaggio maintained that, despite the evidence presented by police, it wasn't clear her brother had done anything wrong
"The only evidence that has come forward at this point is the fact the two bodies were found on his property," she said. "There's a lot of missing information. I have yet to see any solid evidence."