This is an archived article and the information in the article may be outdated. Please look at the time stamp on the story to see when it was last updated.
SAN DIEGO – The mother of Marine reservist Andrew Tahmooressi, who is in a Mexican jail on gun charges, was in San Diego making a public plea for the release of her son.
Jill Tahmooressi and her son's defense attorney Fernando Benitez held a joint press conference at the BellyUp Tavern in Solana Beach Tuesday to keep interest in the story and raise money to keep up the fight for his release.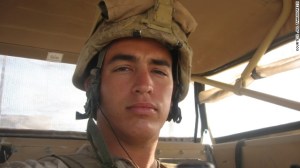 The mother of 25-year-old Tahmooressi got emotional as she talked about her son's captivity and the call she received in March from him in a Tijuana jail.
"Andrew said, 'I'm not going to make it through the night,'" Jill said.
More than 4 months later, Tahmooressi is in solitary confinement in a different Mexican jail, charged with three counts relating to illegal gun possession.
Benitez laid out how he plans to fight this case from many fronts, including human rights violations from the moment Tahmooressi crossed border and his car was searched.
"We can ultimately prove without a doubt that Andrew's turn into Mexico was a mistake," Benitez said.
Benitez and his team will file an extraordinarily rare motion asking the federal judge to throw out much of the evidence from the border crossing and declare a mistrial.
"There were almost 8 hours that Andrew held under arrest, in handcuffs, at the border inspection checkpoint. That was not justified under the Mexican constitution," he said.
At a hearing Monday in Tijuana, Benitez was able to question, under oath, border agents who he said admitted to mistakes, which he explained are "just the way things are done."
"They're arrogance supersedes everything else," he said. "They are zealots who believe that what they are doing is okay."
Tahmooressi maintains he crossed the Tijuana border carrying all his worldly possessions including the guns and ammunition by accident. His status as a decorated Marine veteran and documented Post Traumatic Stress Disorder has garnered his case national attention.
And it's that attention that Benitez wants to keep, "we need to get credibility for Andrew and we need to get many people to believe in him."
Once Benitez files this motion for mistrial a federal judge has 10 days to answer and rule. If the judge rules in Tahmooressi's favor, he could be out of jail three days later. Criminal proceedings will continue, but Tahmooressi would be allowed to return to the United States.