This is an archived article and the information in the article may be outdated. Please look at the time stamp on the story to see when it was last updated.
SAN YSIDRO, Calif. – Local congressmen are getting involved in a case of a Marine Corps veteran imprisoned in a Tijuana after he "blew past" the last exit before driving through the San Ysidro border crossing with guns in tow, according to a San Diego reporter.
Andrew Tahmooressi, 25, said he had no intentions of crossing into Mexico and certainly did not intend to sell his guns, which he had in his Ford truck.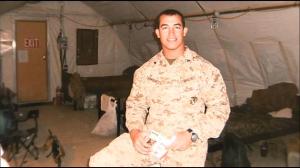 Tahmooressi has been at the La Mesa Penitentiary since April 1 when he was arrested on the Mexico side of the San Ysidro border crossing.
In an interview with UT San Diego reporter Sandra Dibble, Tahmooressi said he missed the last opportunity to make a U-turn before entering the US-Mexico border.
"I blew right past it," he told Dibble.
Meantime, his family in Florida held a rally at the Mexican Consulate in Miami to bring attention to his plight.
Members of Congress, including San Diego County representatives Scott Peters and Duncan D. Hunter, are also exploring diplomatic efforts to get Tahmooressi released.
"We've notified Secretary of State John Kerry," said Peters. "We wanted him to pay attention to this. We wanted to make sure Andrew was treated well and fairly and he comes home soon."
It's not clear whether these efforts will yield results and Tahmooressi is released soon.
A similar case along the Texas-Mexico border resulted in a Marine being held for four months.