This is an archived article and the information in the article may be outdated. Please look at the time stamp on the story to see when it was last updated.
SAN DIEGO — A luxury sports car burst into flames and was destroyed on a local freeway Monday night.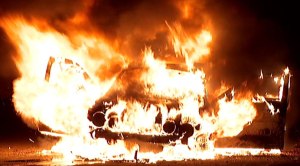 The fire happened on Interstate 15 just north of Friars Road in Mission Valley.
The driver said that his check engine light went on, but he continued driving. A short time later, he noticed smoke coming from the car and pulled over to the side of the freeway. He and his three passengers got out of the car, which quickly became engulfed in flames.
It took firefighters about 15 minutes to extinguish the blaze, but the car was a total loss.