This is an archived article and the information in the article may be outdated. Please look at the time stamp on the story to see when it was last updated.
SAN DIEGO – "Jackass" star Steve-O faces a traffic citation for defacing a sign on Interstate 5 near Mission Bay as part of an anti-Seaworld stunt.
Steve-O, whose full name is Stephen Gilchrist Glover, posted a video on Youtube of the prank, showing him climbing up the freeway sign to attach the word "sucks" after the words "SeaWorld."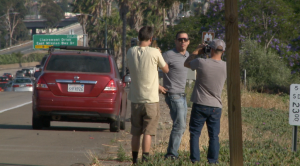 According to city officials, the vandalism caused damage to the sign and Caltrans can seek reimbursement for expenses in repairing the sign.
The San Diego City Attorney's Office charged Steve-O with an infraction of California vehicle code, comparable to speeding or a stop-sign violation.
"It was not a smart thing to do to place drivers and their passengers in harm's way," said Gerry Braun, the direction of communications for the City Attorney's Office. "Had anyone been injured, it is likely Mr. Glover would have faced a felony or misdemeanor depending on the seriousness of the injury."
The 40-year-old prankster can settle the case by a paying a $239 fine before December 22 or he can go to traffic court the same day.
PREVIOUS STORIES:
Steve-O claims credit for 'SeaWorld Sucks' prank