This is an archived article and the information in the article may be outdated. Please look at the time stamp on the story to see when it was last updated.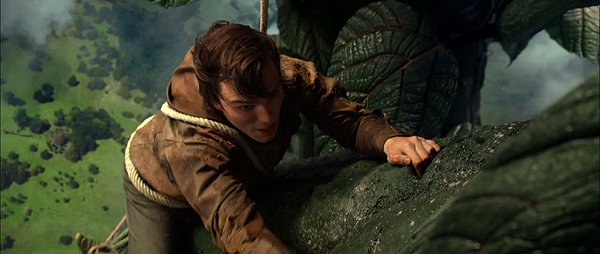 What is it like to spend 2 hours watching $200 million of CGI special effects? Well, it's not as mesmerizing as Avatar, and it's not as horrible as John Carter.
Director Bryan Singer, the man behind the X-men pictures, the fun Usual Suspects, and a Superman reboot, has rebooted the classic Jack and the Beanstalk story for a new generation.
I brought a 5th grader to this movie. She loved it. If you're past 8th grade, you're too old for it. Yet, children younger than 5th graders are too young for the violence and toilet humor. There was absolutely nothing funny about a giant that's picking his nose and farting while preparing to cook some humans.
And boy is this derivative of just about every other story like this.
Jack goes to sell a horse, and comes back with magic beans. His uncle accidentally makes coffee with them…okay, just checking to see who is paying attention. Water gets on one of the beans, and a beanstalk goes up to the sky, taking the house and the princess with it. The beanstalks are the one interesting creation the movie gave us.
We meet a princess who is stubborn and wants adventures (hi Brave), and she gets a crush on a boy who the King will forbid her to be with (hi, every other princess movie). Those two have good chemistry, and are played by Eleanor Tomlinson (Alice in Wonderland) and Nicholas Hoult. He's the kid who stole our hearts in About a Boy years ago, and stole teen girls hearts as a zombie in Warm Bodies a few weeks ago. The arranged marriage that the king has set up, is with a guy 20 years older (Stanley Tucci), who turns out to be the bad guy (surprise).
There are lots of monks in this movie, and it seems their purpose in life is to keep beans from getting wet, and ringing bells when giants show up.
The cast is fun enough to watch. Ewan MacGregor is a valiant knight who we warm up to quickly. I found myself wishing there was more of him. Tucci is waiting to marry the princess and take over the world (with the help of the giants); and Ian McShane (Deadwood) has a face that's perfect on screen. He was the only interesting character in the last Pirates of the Caribbean flick. He's just not given a whole lot to do but snap at his daughter.
The last time I saw this much in the way of CGI special effects was The Hobbit. This movie also has useless action scenes. And just like The Hobbit, the cinematography is dazzling.
The giants all have a creepy and cartoonish look which I didn't like. The only interesting one is the leader, who has a second head growing out of his shoulder. I laughed at that head grunts, sniffing, and screaming. I was so into that second head that I watched the credits to see who it was. It never showed (I guess a CGI creation), but it was fun seeing some characters were named "Fat drunk," "Bald" and "Old Maid." There was also an actor in the film named Richard M. Dixon. I was interested in finding out if Nixon had the worst parents in the world or if he changed his name. I researched it and found that he was a celebrity impersonator that got a lot of work in films in the '70s impersonating the President, and even did the Bill Murray/Hunter S. Thompson movie Where the Buffalo Roam. He owned a comedy club in Long Island, and hadn't done a movie since the early '80s, before appearing in Iron Lady, Les Miserables, and now this. As obsessed as I became about him, I can't remember the character in the movie. As I said, researching him was a lot more fun than this film.
Aside from thinking of The Hobbit and Brave, I also thought a little about The Princess Bride. It's not fair to this movie to compare it to a classic like that because truth be told, this isn't the worst movie you could take your kids to. Most of the family will be entertained enough that you won't feel you wasted your time or money. I just wish the giants could've been as cool as the beanstalks, or that the dialogue wasn't so horribly silly.
I'm giving this a 1 ½ stars out of 5.