This is an archived article and the information in the article may be outdated. Please look at the time stamp on the story to see when it was last updated.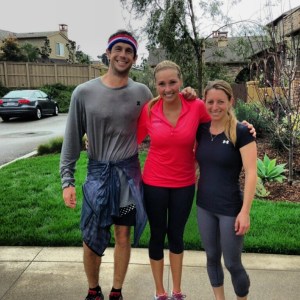 The "monster" rain storm that hit San Diego was needed, but definitely wasn't on my training schedule. In Southern California we are so blessed with year-round sunshine and perfect conditions for running outdoors. For many of us, we haven't stepped foot on a treadmill in years! Running outside, especially for a 16 mile training run, seems much more exciting and so that is exactly what I did (with a little motivation from my running partner, of course). My training partner, happens to be my fiancé, is also running the Boston Marathon this year. The difference is….this is his very first marathon. Am I worried about him? Not at all. Sean is an amazing athlete, and a great runner. In fact, he could probably pull it off with minimal training, although I've told him this is not the best idea.
We headed out the door to do our first "long" run together. Our goal was to see if our pace would be similar over a few hours and if we might actually be able to run this marathon side-by-side. We both wore long sleeves knowing we were bound to get wet. In our pockets we brought a few bucks and couple of gel packets (neither of us have experimented too much with nutrition yet). We didn't carry water because we knew we were running past a friend's house on the coast highway and she would be joining us for a couple of miles too. Off we went! And it only took 10 minutes before we hit a wall of rain!! We were soaked! We wiped our eyes, laughed like kids, and kept up our pace just fine.
About 6 miles in, we met up with my friend Nikki. She was our casual "water stop" and also a great running buddy with lots of energy and good conversation. Nikki and I have been running together since we met and I couldn't have asked for a better pacer. We all managed to run through only "sprinkles" for the next 6 miles and from there it seemed like the "super storm" was over. But it wasn't. Sean and I had 4 miles left and the route home had the strongest head-wind we've felt in a while. We took it as a challenge, settled into a steady pace and finished a solid 16! Woohoo!
My take away from this training weekend….go with a friend. They make you laugh, keep you moving, and if you're wondering why my fiance is wearing a PBR sweat band….well, we may never know. The point is, running buddies can be a crucial morale booster, especially in conditions that fall short of what you would hope to be running in. If you have a buddy next to you, it's hard for anything to rain on your parade.