This is an archived article and the information in the article may be outdated. Please look at the time stamp on the story to see when it was last updated.
London (CNN) — It's a boy! Catherine, Duchess of Cambridge, and husband Prince William on Monday welcomed their first child.
The baby boy was born at 4:24 p.m., weighing 8 pounds, 6 ounces. A name has not yet been announced for the child, who is third in line to the throne.
"Her Royal Highness and her child are both doing well," read an official bulletin placed outside Buckingham Palace.
Crowds erupted in cheers. People from all over the world had gathered outside Buckingham Palace to await the news. At least one group of well-wishers brought flowers, champagne and a card for the Duke and Duchess of Cambridge.
The fountains at Trafalgar Square were turned blue.
"It is an important moment in the life of our nation, but I suppose above all, it's a wonderful moment for a warm and loving couple who got a brand new baby boy," said British Prime Minister David Cameron.
The new parents spent some time with their baby before calling family members — starting with Queen Elizabeth II — to announce the birth, a Kensington Palace source told CNN royal correspondent Max Foster.
Prince William remained at Catherine's side throughout the labor and the baby was born vaginally, not via a C-section, the source said.
"We could not be happier," said Prince William, according to the Kensington Palace source.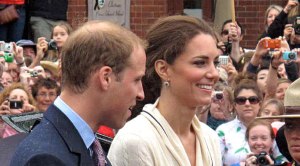 The royal couple is expected to remain in hospital overnight and is not scheduled to make a public appearance Monday.
"Both my wife and I are overjoyed at the arrival of my first grandchild. It is an incredibly special moment for William and Catherine, and we are so thrilled for them on the birth of their baby boy," Prince Charles and wife Camilla said in a statement.
Earlier in the day, the duchess and Prince William traveled by car from Kensington Palace to the Lindo Wing at St. Mary's Hospital.
The hospital, next to Paddington Station in London, is where William and his brother Prince Harry were born.
The duchess' mother, Carole Middleton, was expected to be on hand at the hospital.