This is an archived article and the information in the article may be outdated. Please look at the time stamp on the story to see when it was last updated.
SAN DIEGO – The S&P Case-Shiller Home Price Index recently reported that home prices in San Diego have risen for nine straight months.
Joe Bertocchini of the University of San Diego's Burnham-Moores Center for Real Estate said when it comes to homes, San Diego's market is lacking supply.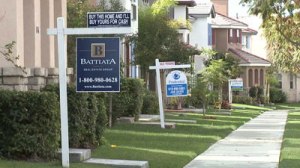 "As soon as they come up and they're available, they're gone," said Bertocchini. "We just don't have enough land out there right now in San Diego to be putting enough new product out on the market."
Bertocchini said for what product there is the product doesn't last. When a foreclosed home is released by the bank, investors are hungry to land them.
"The investor pool is really chasing deals in San Diego right now," said Bertocchini. "It's creating a really difficult situation for homebuyers who are trying to get into the market."
It took Zachary Love more than a year to buy a home in San Diego.
"I probably put 20 offers in over that time," said Love.  "Every offer seemed to come in over list price – multiple offers.  They're getting boosted up really fast."
The good news is it means San Diego's real estate market is recovering.
"Boom is a dangerous word to use," said Bertocchini.  "I think as far as we can tell it's going to continue to grow you're going to see strength in the market."