This is an archived article and the information in the article may be outdated. Please look at the time stamp on the story to see when it was last updated.
SAN DIEGO – Negative campaigning is no longer just TV ads and mailers, social media outlets are the new way candidates and their supporters spread their messages or attacks.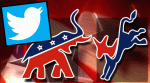 Some of the candidates for San Diego mayor are the target of Twitter attacks.
Some negative tweets have come from Tony Krvaric, Republican Party of San Diego Volunteer Chairman. In one tweet, Krvaric referred to mayoral candidate Nathan Fletcher as a "spineless political chameleon." In another he called Fletcher a "sociopath."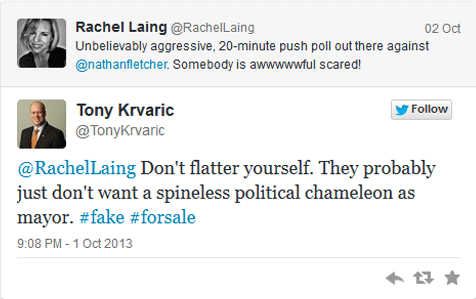 "I think it really reflects a lot of what's wrong in politics today," said Nathan Fletcher, mayoral candidate. "I believe you can disagree with people and not be disagreeable. I believe we should treat people well and realize were all in this together. Even if we agree or disagree on an issue we ought to keep positive and we ought to keep it focused on the issues."
At a recent debate Fletcher challenged the other candidates to run clean campaigns. Wednesday he told Fox 5 he's standing by his pledge and will not attack any other candidate.
Republican mayoral candidate Kevin Faulconer seems to be distancing himself from the tweets made by Krvaric.
"There's so much negative stuff that happens a lot on Twitter and I'm urging everybody, be positive," said Faulconer. "Talk about your candidate. Talk about their strengths. But let's have a positive campaign. That's what San Diegans deserve particularly post-Bob Filner."
The negative tweets vary in extremes from personal attacks to candid opinions.
In a tweet from Assemblywoman Lorena Gonzalez she defended Fletcher joining the Democratic Party, but took a swipe at Faulconer.
@tonymanolatos @rdotinga @kevin_faulconer wow. At least when Nathan realized he wasn't a Republican's Republican, he had the guts to leave.

— Lorena (@LorenaSGonzalez) October 2, 2013
The tweet was in response to one written by Anthony Manolatos, Faulconer's Communication Director.
Fletcher's campaign spokesperson Rachel Laing also responded to Manolatos on Twitter.
When even the party's anointed mayoral candidate is trying to distance himself, maybe time for SD GOP to worry… https://t.co/7DXrzeOwIp

— Rachel Laing (@RachelLaing) October 2, 2013
Political consultant Laura Fink said she's not sure the negative tweets are having the intended effect.
"There was a 2010 study done in Indiana University that analyzed 400 congressional campaigns over Twitter," said Fink. "That's over a half a billion tweets. And they found that in 93% of the cases the candidate that was most often mentioned on twitter won the election. So it's kind of an update to the old adage, all press is good press."
Fox 5 gave Krvaric the opportunity to be interviewed for this story, but he declined citing a busy schedule.