This is an archived article and the information in the article may be outdated. Please look at the time stamp on the story to see when it was last updated.
SAN DIEGO — An Iranian man with a legal visa finally landed in San Diego amid the travel ban controversy.
Amir Bahdor's story should have played out like thousands of others applying for an immigrant visa.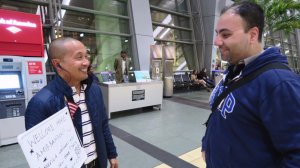 "Doesn't matter what country you're from, everyone follows the same procedure," said his lawyer Carl Balediata.
Applicants go through an extensive interview process and background check, one that can take seven years. Amir did all that.
"The officer congratulated me and told me I was approved and welcome to the United States. I thought it was all fine," said Bahdor.
But then President Trump took office and issued an executive order that temporarily halted immigration from seven majority-Muslim countries.
Read more Appeals court upholds suspension of Trump travel ban
"That's when all the problems started," said Balediata.
Trump's travel ban included Iran. Bahdor, 34, with a Master's degree in computer programming, was caught in the middle.
"I said, 'get on the first flight that you can find because this ban, I think it applies to you guys,'" said Balediata.
Amir tried twice but was turned away at the airport gate. He said our president should trust his own government's extensive screening process.
Over the weekend, a federal judge suspended implementation of the ban nationwide. The suspension was upheld by another judge in San Francisco following a challenge to the suspension from the White House.
On his third attempt, just this weekend, Amir finally made it on a plane shortly after the stay was put into place.
"I love San Diego and American people are so very nice. Everything here is very good. Yes I like it here and I want to live [here] and make a better life," said Bahdor.
Attorney Carl Balediata went out of his way to make sure Amir felt welcomed. He helped get him his first place since Amir had to move so quickly.