This is an archived article and the information in the article may be outdated. Please look at the time stamp on the story to see when it was last updated.
ESCONDIDO, Calif. — A man shot and killed by Escondido police who lunged at officers with a knife was despondent and suicidal, police said Sunday.
"A handwritten letter recovered from the man's pocket and several text messages on his phone indicated he was considering suicide," Escondido Police Department Lt. Neal Griffin said as results of the preliminary investigation were released at a news conference on the steps of the city's police station.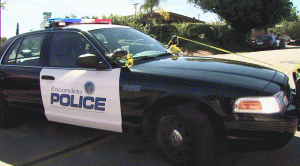 Police received an anonymous call requesting assistance to the area south of East Washington Avenue and east of North Citrus Avenue at about 10:45 p.m. Saturday,
Officers encountered a man brandishing a knife near East Washington Avenue and Trovita Court.
When Lam Huinh, who lives on Trovita Court went out to his  car to get something, he said he  heard officers reapeatedly yelling to the man to "drop to the ground."
"While attempting to persuade the man to put down the knife, the subject began to walk deliberately toward the officers who gave ground, walking backwards for several hundred feet," said Griffin.
Griffin said an unsuccessful attempt was made to disarm the subject using a Taser.
"After numerous attempts to convince the subject to drop his weapon, he suddenly raised the weapon and charged one of the officers," Griffin said. "Two officers fired five times striking the man more than once."
The subject fell to the ground with the knife still in his hand, Griffin said.
Officers immediately rendered first aid until Escondido Fire Department paramedics arrived, Griffin said.
The shooting victim was taken to Palomar Medical Center, where he later died, Griffin said.
The officers involved were not injured.
The name of the shooting victim is being withheld pending notification of next of kin.
"When we witness a situation like that, with hopelessness, it's a little heartbreaking," said Huinh.