This is an archived article and the information in the article may be outdated. Please look at the time stamp on the story to see when it was last updated.
SAN DIEGO — An investigation is underway Sunday for a man who broke into two apartments and entered the rooms of young girls in a San Marcos neighborhood early Sunday.
The suspect entered the first apartment at the 500 block of Rush Drive just before 5:15 a.m. and was kneeling by the bed of a sleeping 7-year-old girl, San Diego sheriff's Detective Karen Stone said. When the suspect noticed that the girl awoke, he stood up and ran out of the apartment through a sliding glass door.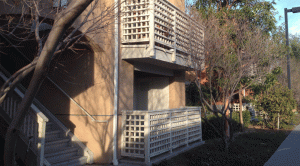 At about 5:50 a.m. Sheriff's deputies received another call from the same apartment complex. There, the suspect had entered a room where an 8-year-old girl and her mother were both sleeping, Stone said
The mother awoke to find the suspect lying on the floor next to her daughter's bed. The mother chased the suspect out of the room, where the man again escaped through a sliding glass door, jumping from the second story balcony and ran away, Stone said.
"I was right behind him yelling and screaming get out of here get out of here," the mother said.
"We're working on that theory that this is the same person because the descriptions are similar," San Diego County Sheriff's spokeswoman Jan Caldwell said.
The suspect in both cases was described as a black man, between 5 feet-7 inches and 5 feet-9 inches, with scruffy facial hair. He was wearing a beanie cap, white t-shirt and dark pants, Stone said.
The managers at the apartment complex were warning their tenants of the incidents.