This is an archived article and the information in the article may be outdated. Please look at the time stamp on the story to see when it was last updated.
SAN DIEGO — An Uber driver accused of crashing into a bus in the Gaslamp quarter while driving drunk is a local chef.
Police said 41-year-old Shariff Herndon was driving drunk when he struck the bus in the intersection at 6th Avenue and F Street.
"He went right through the red light. We don't know how fast it was going at the time," said Officer Travis Easter, San Diego Police Department Spokesman.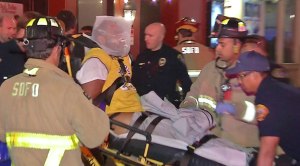 Herndon, the driver of a Nissan Altima, who had an Uber sticker in his window, failed a sobriety test and fought officers during his arrest.
In cell phone video obtained by FOX 5, Herndon is heard grunting at officers while yelling "let me go, let me go," and "you can't do anything to me."
Officers put him in restraints and took him to the hospital for minor injuries, police said.
Police said he not only resisted arrest, but also lied about his identity.
"The gentleman gave them a false name…they learned his true identity," said Easter.
His real identity was revealed online. On Twitter, FOX 5 found a picture of the same 2015 Nissan totaled in the accident.
On his social media profiles, Herndon also wrote he is a professional chef and a TV personality. He has appeared on NBC's "Food Fighters"  and also auditioned for FOX's Master Chef.  He is also a U.S. Navy Veteran.
Herndon also tweeted that he drove for Uber to make extra money.
"While speaking to him, he made statements or comments that he was an Uber driver," said Easter.
Wednesday night, Herndon told police he was on his way to pick up a ride.
Uber told FOX 5 that the last time Herndon was logged into their app was Sunday.
The company also said:
"We have a zero tolerance policy for using or being under the influence of alcohol or drugs while driving on the Uber platform. This individual was not logged in to the Uber app at the time this incident occurred or on his way to pick up a rider. We are clearly disappointed that this occurred and have permanently removed this driver-partner's access to the Uber platform."
An Uber spokesperson said Herndon's account was deactivated Thursday morning after the company was informed of the incident.
The bus driver was the only person aboard the party bus when the crash happened. He was not injured, police said.
No one else was injured in the crash.