This is an archived article and the information in the article may be outdated. Please look at the time stamp on the story to see when it was last updated.
SAN DIEGO — Authorities are searching for an inmate who escaped from a medium-security prison in Otay Mesa Sunday.
Demetrius B. Robertson, who also goes by the last name Roberson, was discovered missing from his cell at Facility 8 during a head count around 7 p.m.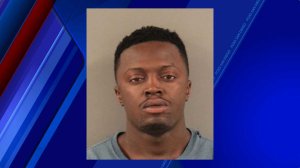 Facility Eight and nearby George Bailey Detention Facility were placed on lockdown as soon as Robertson was discovered missing, and another head count and a search of all cells was conducted, authorities said.
Several agencies assisted in a search and a checkpoint was set up in the area, but the missing fugitive was not located.
Robertson was arrested in May for violating the conditions of his parole. He is 24 years old, 5 feet 9 inches tall, 195 pounds and has black hair and brown eyes. He was last seen wearing a black sweatshirt and a baseball cap. He is known to frequent Chula Vista, College Grove and Chollas View. A possible sighting was reported Monday morning near Chollas Lake.
If you have information on Robertson's whereabouts, you are urged to call Crime Stoppers at (888) 580-8477 or 911.