This is an archived article and the information in the article may be outdated. Please look at the time stamp on the story to see when it was last updated.
It's been some time since I sat down and wrote much of anything other than news stories or thank you notes.  But, it's been an unsettling few months with my emotions running close to the surface.
For anyone who really knows me… I am extremely private and for me to be unable to hide what I am really feeling, is to feel more vulnerable than is comfortable.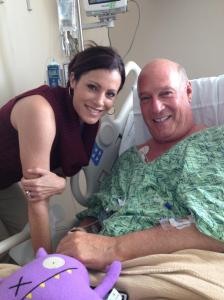 My co-anchor/cohort and most importantly friend, Loren Nancarrow was diagnosed with brain cancer in January, my director/friend was in a near fatal motorcycle accident the same night, and my daughter's teacher's husband was in a car accident caused by a brain tumor, which turned into a coma and ultimately his untimely death.  This was all before February.
It's been a lot to digest even from the sidelines.
So much loss, on so many levels.  I miss Loren at work terribly and frankly just being in his orbit.  I miss my director's funny quips in my earpiece while I'm on the set. I miss the fun-loving aura that once surrounded my daughter's teacher, as she bravely moves forward with her 6-year-old daughter after such a heartbreaking blow.
I miss.  I miss.  I miss.  It has felt like a theme for 2013.
I know life deals us all kinds of hands and we have to play the cards we're dealt.  Though some would argue I've never been playing with a full deck, I have always been good at shuffling my cards to make the best of what I have.  But this time around, watching so many I care about having to ante up way more than their share, I pulled out of the game for awhile – to look for my smile.  Then I came across the words of another one time San Diego resident, Theodor Geisel who inspired me to propel forward:
   "Don't cry because it's over, smile because it happened." – Dr. Suess
Apparently, my smile was right under my nose the whole time.