This is an archived article and the information in the article may be outdated. Please look at the time stamp on the story to see when it was last updated.
SAN DIEGO - In-N-Out expanded its menu — which largely consists of burgers, fries and milkshakes — to include hot cocoa made with Ghirardelli chocolate.
The chocolatey menu addition isn't actually a "new" item for long-time diners, either. The drink was originally introduced to the menu in the 1950s, a few years after the first location opened in 1948, FOX News reported.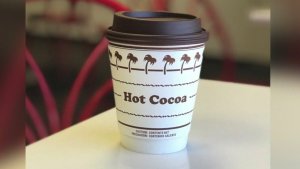 "I'm not sure how it fell off the menu but it's part of our culture and something special for kids, and I'm happy that we're bringing it back," In-N-Out president Lynsi Snyder said, according to FOX11 LA. "For a certain generation, hot cocoa is an In-N-Out classic, and we hope it will be a favorite of a new generation. It's quality cocoa from Ghirardelli and yes, we serve it with marshmallows!"
An 8-ounce cup of hot cocoa costs $1.60 and is made with hot water as opposed to milk, the Orange County Register reported.
In any case, the decision to offer cocoa probably wasn't one that In-N-Out came to lightly. According to Eater, the beverage is the first new item to be added to the burger chain's menu in more than a decade.
But while some people on social media went "cocoa" for the drink, others were left wondering why the restaurant still doesn't offer bacon, or any kind of breakfast sandwich.