This is an archived article and the information in the article may be outdated. Please look at the time stamp on the story to see when it was last updated.
SAN DIEGO – A ribbon-cutting ceremony Monday officially opened a new crosswalk near Florence Griffith Joyner Elementary School in City Heights.
City officials flipped the switch on new traffic lights at the northeast corner of Fairmont Avenue and Dwight Street. Nearly $1.2 million of Caltrans and TransNet funds were used to pay for the improvements, San Diego City Interim Mayor Todd Gloria said.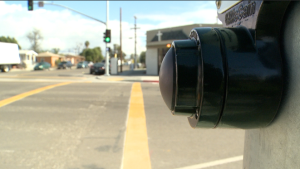 Gloria said student safety was the main reason for the pedestrian improvement project. Children walk to school every day and the intersection hasn't had the best reputation for pedestrians.
Less than a year ago, a man was hit and killed by a vehicle near the area.
"I was standing right there…a car almost hit me," Artelia Winslow of City Heights said about the intersection.
A few blocks from Dwight Street, residents wanted to remind city officials that there's still more to be done. The same area has multiple schools and bus stops.
Lynette Taylor has been living in City Heights for a long time and wants more crosswalks – especially at Fairmount Avenue and Laurel Street.
"We need a cross walk right here," said Taylor. "Cars are going 50 and 60 miles an hour."
"I've seen crashes, I've seen people get hit," said another neighbor.
A city Department of Public Works spokeswoman said there are several improvement projects planned for the area. It will take some time to find out an exact date for improvements on Fairmount and Laurel.