This is an archived article and the information in the article may be outdated. Please look at the time stamp on the story to see when it was last updated.
SAN YSIDRO, Calif. —  Over a week ago, a mob of more than 100 people crossed  into the US illegally in the Tijuana River channel only to be pushed back by Border Patrol agents, and a second incursion may be in the works.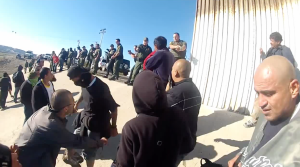 Border Patrol agents believe the illegal crossing was a planned act of disobedience that took place the Sunday before Thanksgiving.
Agents used non-lethal force including Tasers, pepper pellet guns, mace and tear gas to push the crowd back into Tijuana. But some are worried that a second mass illegal crossing may be in the planning stages.
"There are a few people saying they need to do it again," said Bryan Chilian, a filmmaker who was working on a documentary about the homeless living near the border when he saw the crowd move to cross the border. Chilian filmed the incident.
Border agents didn't use lethal force the first time around, but some fear they might if it happens again.
Last month, Customs and Border Protection said it would continue to use deadly force if needed, going against the recommendations of a federally appointed independent committee. That's why many are against the possible mobilization of another mass illegal crossing.
"There's nothing good that can come from that," said Ricardo Favela, immigration activist with Alliance San Diego.
The incident is seen by many as a desperate attempt to call national attention to the need for immigration reform. Also this week the 11 for 11 campaign kicked off. Organizers hope to  inundate members of Congress with 11 million emails on behalf of the 11 million undocumented immigrants living in the US, demanding they get to work on immigration reform.
There's also a hunger strike taking place outside the White House, and Alliance San Diego, a pro-immigrant group, delivered quilts made by families who want reform to members of Congress urging them to pass a bill before the end of the year.
President Barack Obama has called on Congress on numerous occasions to send a bill to his desk, but House Speaker John Boehner says that won't happen this year.