This is an archived article and the information in the article may be outdated. Please look at the time stamp on the story to see when it was last updated.
SAN DIEGO — Seven flights in and out of Lindbergh Field had been canceled by Friday afternoon because of the wicked weather back east, while another 100 or so have been delayed, according to an airport spokeswoman.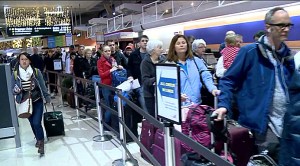 The cancellations have involved several airlines and a variety of destinations, including Boston, New York and Philadelphia, which were hit hard by snow and cold temperatures, the airport's Katie Jones said. She said other flight cancellations have involved destinations much closer to home, including Los Angeles and Oakland.
Some arrivals and departures are delayed for an hour or more, including up to five or six hours for flights to New York, according to the flight status page on the airport's website — www.san.org.
Jones encouraged travelers leaving San Diego or picking up an arriving passengers to check the flight status online or by calling the airline before going to the airport.
Most of the delays were for flights on Southwest Airlines, even though the carrier usually flies shorter routes from San Diego to cities around the West. However, Southwest's aircraft coming into San Diego frequently originate from cities affected by the storms.
"Southwest does see the majority of the delays, but they're also the majority of our traffic," Jones said.
She said travel also was disrupted Thursday night because of dense fog along San Diego's coast. Several flights were diverted to other airports after 9:35 p.m., she said.
The National Weather Service said it's possible that more dense fog could develop tonight and impact coastal airports.