This is an archived article and the information in the article may be outdated. Please look at the time stamp on the story to see when it was last updated.
SAN DIEGO – The platform collapse at an indoor gym, which injured at least 21 children and two adults, remained under investigation Sunday.
The structure failure was at about 7:40 p.m. Saturday, during a kids' night at Vault PK, a Parkour training facility in Barrio Logan.
Patrick Minor was working the front desk at Vault K when the platform collapsed. He made the 911 call.
"The first thing I heard was wood cracking and that was the initial noise that I heard followed by the loudest possible thing I could hear – the crash of the balcony, then screams," Minor said. "I saw kids running and screaming. I didn't know what to do other than jump in and try to take kids off, do as much as I could to be helpful without injuring myself."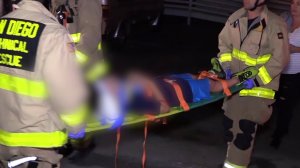 San Diego Fire-Rescue Department spokesman Jose Ysea said investigators were at the scene of the incident in the morning Sunday and were checking to make sure the training facility had all of its permits in order.
"(The investigation) will take a couple of days," Ysea said.
The collapse occurred when about 50 children ran at the same time to an upper level after they were told pizza was being served, witnesses said.
Some of the patients were above the 10-foot by 30-foot platform that was 10 feet above ground and some were below it. One end of the platform gave way and people fell onto each other, Ysea said on Saturday.
Two women, ages 72 and 46, were among the first to be taken to hospitals. Twenty-one children were also taken to hospitals, Ysea said.
Injuries were "very minor to moderate. Nothing severe or critical," he said.
There could be other children injured whose parents took them to hospitals, he said.
"It could've been a lot worse, but thank God it wasn't," Minor said. "It's nothing like I've ever experienced before and it's something I wouldn't want anyone to experience."
Minor posted video of the aftermath on his Snapchat account.