This is an archived article and the information in the article may be outdated. Please look at the time stamp on the story to see when it was last updated.
DEL MAR, Calif. — A multi-vehicle crash on Interstate 5 sent two people to the hospital and brought southbound traffic through Del Mar to a halt early Monday, authorities said.
At least two motorcyclists and two or three motorists crashed on southbound I-5, south of Via De La Valle, about 7:10 a.m., according to the California Highway Patrol.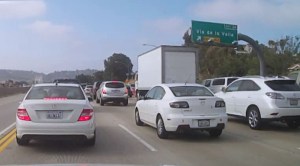 Medics took two patients to Scripps Memorial Hospital, a San Diego fire- rescue dispatcher said. The CHP reported at least one of the injuries was "major."
A SigAlert was in effect due to the crash, which blocked three lanes of traffic, including a carpool lane.