This is an archived article and the information in the article may be outdated. Please look at the time stamp on the story to see when it was last updated.
SAN DIEGO — Hundreds of bicyclists, including San Diego Mayor Kevin Faulconer and chief of police Shelley Zimmerman, rode around Fiesta Island Tuesday night in support of a fellow cyclist who was critically inju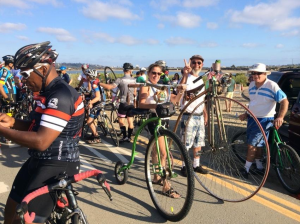 red by a wrong-way driver during a group ride on the island last week.
Juan Carlos Viñolo, a 49-year-old married father of two from La Jolla, is currently at UCSD Medical Center in Hillcrest in critical condition with injuries including spinal cord fractures that have left him paralyzed from the waist down. He also suffered two collapsed lungs, several broken ribs, a lacerated spleen and the loss of one kidney, according to friends and family.
Viñolo was riding with a group of about 20 cyclists on the evening of Aug. 12 when a wrong-way car plowed into the group. About half of the cyclists sustained injuries, but Viñolo was the most seriously hurt.
Last week, Theresa Owens, the 49-year-old driver of the car, was charged with driver under the influence of drugs causing injury and possession of a controlled substance, both felonies.
The San Diego Bike Coalition organized Tuesday's ride to show support for Viñolo and raise money for his mounting medical bills and what will undoubtedly be a long recovery. The ride began at 6 p.m. after a few words from Mayor Faulconer and chief Zimmerman.
Cyclists rode two laps around Fiesta Island for a total of about seven miles. As of Tuesday morning, more than 370 riders said they would take part, but organizers say an estimated 400-600 people showed up.
Viñolo's family has set up an account to raise money to help with his recovery.