This is an archived article and the information in the article may be outdated. Please look at the time stamp on the story to see when it was last updated.
SAN DIEGO — Hundreds of demonstrators — many led by statewide faith leaders — marched to the Otay Mesa Detention Center Saturday, where they protested federal immigration policies. Some attendees ended up leaving the event in handcuffs or zip ties.
Starting in the early afternoon, organizers marched from a location on Otay Mesa Road to the Otay Mesa Detention Center, where some migrant mothers who had been separated from their children were being held.
By late evening, a small contingent of protesters remained  outside the facility, some chained to one another or to a segment of fence they had brought to the scene. Officers were heard over a loudspeaker telling the remaining protesters that their demonstration was an "unlawful assembly" under California law, and that they would be forcibly removed if they remained. Demonstrators chanted back, "We're not leaving!" over bullhorns.
Officers eventually moved in and handcuffed or used zip ties to restrain the remaining protesters. CHP used bolt cutters to remove those chained to items or other people. CHP Public Information Officer Jake Sanchez said at least six people were ultimately arrested for unlawful assembly and blocking access to the road. Sanchez noted the protesters were "peaceful," and said those who had been chained were removed "as peacefully as possible."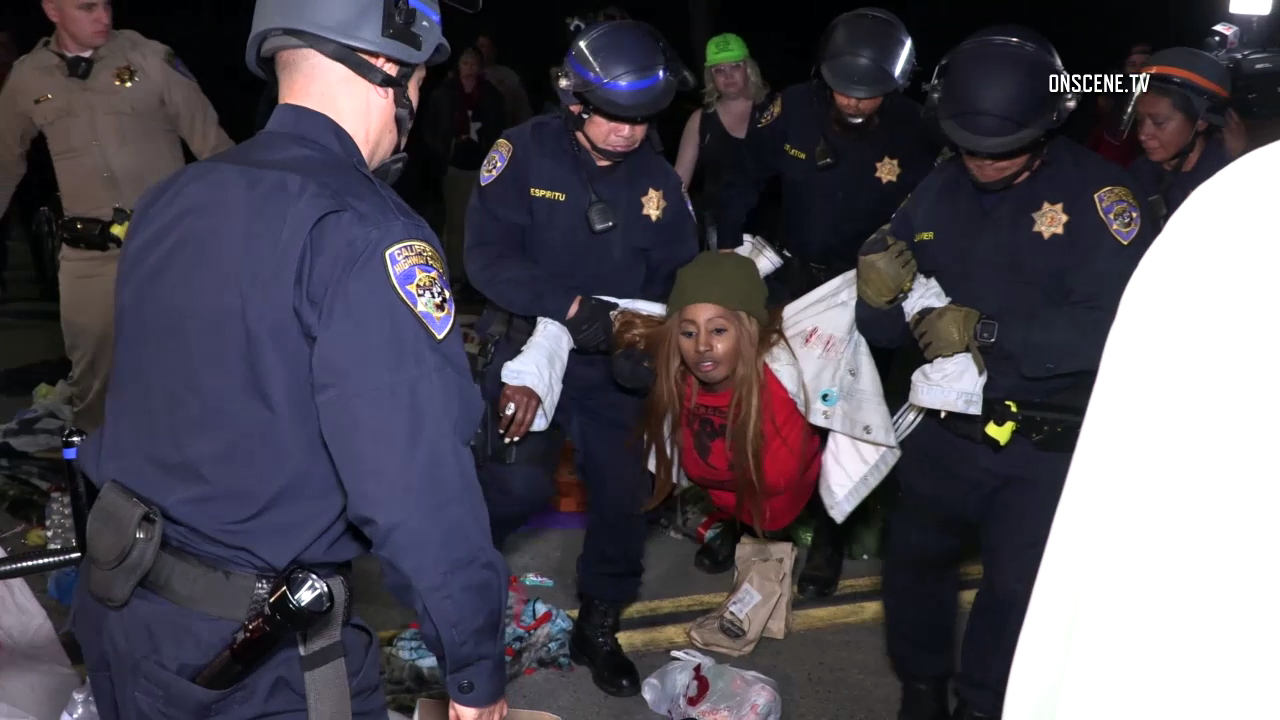 President Donald Trump signed an executive order Wednesday intended to end family separation at the border, but it doesn't include any recourse for the families who were already affected by the policy during the past several months. A White House memo released Saturday evening outlined a process that would allow families to reunite after the parents' deportation proceedings were complete. Federal agencies say about 500 children have been returned to their families since May.
There were at least two different groups protesting in front of the detention center Saturday, including the handful of people who blocked an exit to the facility.
California Highway Patrol officers and San Diego County sheriff's deputies were first called around 1:05 p.m. to monitor protesters marching in the roadway toward the detention center, according to sheriff's Lt. Amber Baggs. CHP was seen handcuffing a man who reportedly threw nectarines during the rally — a white car nearby was covered in smashed fruit.
One protester told reporters that she had been hit by a car exiting the area, though it wasn't clear if officers were investigating the alleged incident as a crime.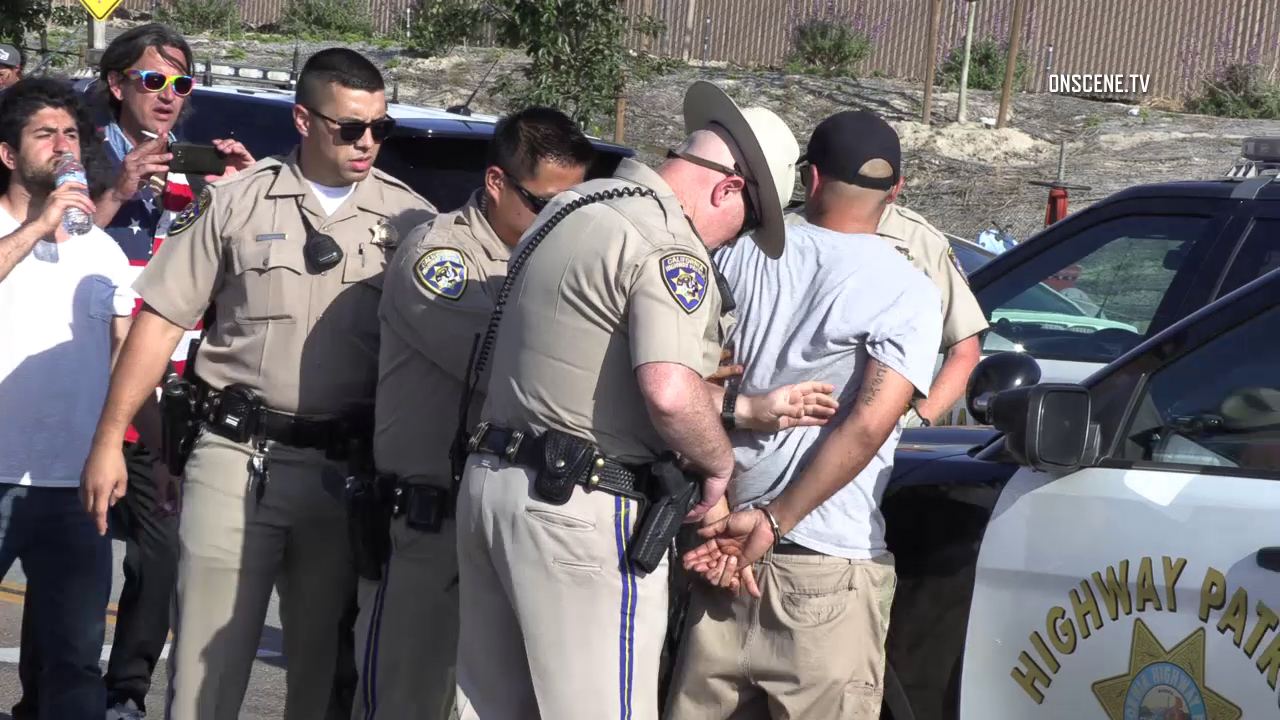 Participating organizations included faith-based social justice groups PICO California and the San Diego Organizing Project. Bishop Robert McElroy, the Catholic diocese of San Diego, was expected to attend, as well as Father Neal Jose Wilkinson and Gloria Morales, both with the San Diego Organizing Project.
"What we've been seeing with the Trump administration's family separation policies — and Jeff Sessions' use of the Bible to defend them — is truly horrific," Wilkinson said. "Children do not belong in detention centers. They belong with their families, in our communities and in healthy, safe environments where they are able to thrive."
After sharing immigrant-related stories through the day, protesters will hold a candlelight vigil into the night.
The march comes on the heels of U.S. Sen. Kamala Harris' visit on Friday to the detention center, which she described as a "typical prison setting."
Harris said rejecting the Trump administration's zero-tolerance immigration policies is akin to "fighting for the ideals of our country."