This is an archived article and the information in the article may be outdated. Please look at the time stamp on the story to see when it was last updated.
SAN DIEGO — Memorial Day ceremonies in San Diego County are scheduled to continue Sunday with a veterans memorial service at the Miramar National Cemetery.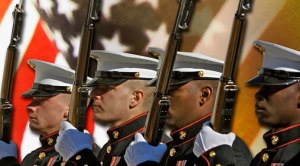 Major Gen. Steven Busby, commander of the 3rd Marine Aircraft Wing, will be the featured speaker at the 1 p.m. event, which more than 800 people are expected to attend.
Former prisoners of war and Korean War veterans are scheduled to attend the service, as are members of the Navy Nurse Corps Association, the Pearl Harbor Survivors Association, the American Military Retirees Association and members of other local veterans groups.
The veterans memorial service is sponsored by the Fort Rosecrans and Miramar National Cemetery Support Foundation and will be held in the cemetery's Memorial Circle at the eastern end of the Avenue of Flags.
On Monday, local events will continue with a Memorial Day service and Day of Remembrance at Fort Rosecrans National Cemetery at 10 a.m.
Rear Adm. Dixon R. Smith, commander of the Navy Region Southwest, will deliver the Memorial Day address and San Diego Mayor Bob Filner will be the event's guest speaker.
The program will also include a reading of the Gettysburg Address, "Lament for a Soldier" and General Order 11, issued in 1868 that called for decorating the graves of those who died in defense of the country, officials said.
The event is sponsored by the Fort Rosecrans Memorial Day Committee.
Also on Monday, veterans will gather at the Alpine Community Center and share their stories, followed by food, music and a fly over by Buecker Squadron in vintage WWII planes.
The 11 a.m. event is being held to thank veterans who made the ultimate sacrifice for the country and to thank the community for supporting the creation of the Alpine Veterans Wall of Honor, constructed at the community center using tiles representing veterans and those currently serving.
At 2 p.m. Monday, the Mt. Soledad Veterans Memorial will host a Memorial Day ceremony, in which former Navy SEALs Glen A. Doherty and Tyrone S. Woods who were killed last year in the Benghazi attack will be honored.
The keynote speaker for the event will be Rear Adm. Sean Pybus, commander of the Naval Warfare Command.