This is an archived article and the information in the article may be outdated. Please look at the time stamp on the story to see when it was last updated.
LOS ANGELES — Huell Howser, the folksy host of "California's Gold" and other popular public television travelogue programs, has died. He was 67.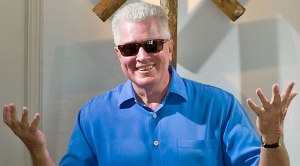 Famed for blurting out "That's amazing!" or "Oh my gosh!" during interviews, Howser, who died Sunday night, had recently retired from making original episodes of "California's Gold," in which he traveled around the state tracking down interesting people and places. The program aired in San Diego on KPBS and statewide on public TV stations.
The Tennessee native moved to California in 1981 to be a reporter at the Los Angeles station KCBS, then later he transitioned to more long-form pieces for PBS. He hosted California's Gold for 19 years.
Howser's retirement was announced on Nov. 27.
Several sources told media outlets that Howser died of natural causes.