This is an archived article and the information in the article may be outdated. Please look at the time stamp on the story to see when it was last updated.
SAN DIEGO — The San Diego Housing Commission hosted a grand opening ceremony Tuesday for a housing development for formerly homeless military veterans.
The Alpha Lofts project in Normal Heights will include 52 one-bedroom rental units as well as various services to help formerly homeless residents re- integrate themselves into society. According to the housing commission, rent for the units will remain capped at 50 percent of the city's Area Median Income — currently $63,400 for a family of four — for 55 years.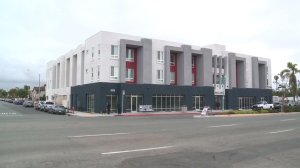 The housing commission broke ground on the project in January 2018, entering into a partnership with the Alpha Project and the Chelsea Investment Corporation to develop a vacant lot into the Alpha Lofts. The Alpha Project will provide supportive services to the development's residents.
The Alpha Lofts development is located at 3808 El Cajon Blvd.