This is an archived article and the information in the article may be outdated. Please look at the time stamp on the story to see when it was last updated.
SAN DIEGO — Some local hotel workers feel they're being punished for demanding better wages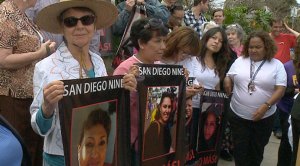 If you drive past the Hilton Mission Valley anytime over the next five days, you'll see tents and five hotel workers camped out on a hunger strike.
"(We're) going to be out here on the street the whole time," said one of the strikers Francisco Pazos.
They are showing support for nine Hilton Mission Valley employees who may lose their jobs.  They feel they're being unfairly targeted for demanding better wages.   On March 21, Evolution Hospitality took over management of the hotel and used federal government E-Verify program to verify the legality of their workforce.  Now, nine undocumented workers may get fired.
Fox 5 asked Pazos to respond to the argument that the hotel is simply following the law by ensuring the company doesn't employ illegal immigrants.  Pazos said the hotel has employed some of the workers for about 15 years.
"So why is it now that we have an organized labor movement approved by the workers, they're instilling this E-Verification?" he said.  "To me, it's very suspicious."
Brigette Browning, President of the Hotel Workers Union, also responded to that argument.
"I think that they're just hiding behind that excuse," said Browning.   "Because you have workers who have the courage to stand up and say, 'You know what I shouldn't make $8.40 an hour' and then two weeks later they're going to get fired because their employer decides to check their papers."
Virginia Martinez is one of the workers whose job is in jeopardy.
"My job doesn't depend on my papers," she said, speaking through a translator.  "I'm a responsible worker.  I'm honest, and I'm good at my job."
Fox 5 reached out to Evolution Hospitality for a comment.