This is an archived article and the information in the article may be outdated. Please look at the time stamp on the story to see when it was last updated.
CARLSBAD, Calif. — Hot Dog on a Stick, the Carlsbad-based chain of shopping mall eateries known for staff in brightly colored, striped uniforms and impaled corn dogs, announced Monday it filed a Chapter 11 petition in U.S. Bankruptcy Court in Los Angeles.
The company said in a statement that it's seeking relief so it can reorganize and restructure its business.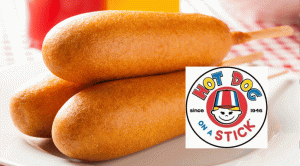 Hot Dog on a Stick operates 93 locations and said it plans to continue business as usual during the bankruptcy proceedings.
The company said it has in the past year made significant reductions to its corporate workforce and expenses, tried to increase sales, and worked to save money in the supply chain and in stores.
In addition to those continuing efforts, HDOS said it plans to work with its landlords to review and renegotiate leases, the vast majority of which were written at the height of the real estate bubble.
"Like many mall-based businesses, HDOS signed some very expensive leases during the booming economy of the mid-2000s," said CEO Dan Smith. "In addition, declining mall foot traffic over the past several years has had a negative impact on sales at most company locations.
"We've been pursuing new leases in all locations and the Chapter 11 filing will allow us to do so in a more effective manner," Smith said. "The mall business is built around the relationships and partnerships between tenant and landlord. We want to be in malls where the relationship is positive and the partnership is mutually beneficial."
He said since the Hot Dog on a Stick brand has been strong and iconic for many years, the company's initiatives and cooperation of partners will allow them to emerge from bankruptcy proceedings "in a position to thrive well into the future."
Company founder Dave Barham opened his first restaurant as Party Puffs in 1946 at Santa Monica Beach, selling ice cream and lemonade, according to the company's website. Later, he used his mother's cornbread recipe to perfect the corn dog, changed the eatery's name to Hot Dog on a Stick and traveled with his product to county fairs — where he got the idea for the colorful uniforms.
Barham opened his first shopping mall restaurant in 1973 in Salt Lake City. He died in 1991 and left the company to his workers. Hot Dog on a Stick operates under an employee stock ownership plan.