This is an archived article and the information in the article may be outdated. Please look at the time stamp on the story to see when it was last updated.
SAN DIEGO – A hot air balloon carrying 14 passengers crashed in Rancho Penasquitos backyard Monday evening, fire officials said.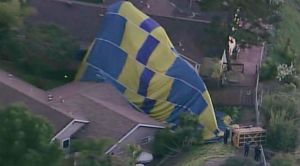 The balloon basket crashed through a fence on Avenida Del General just before 5 p.m. Monday, San Diego Fire-Rescue Department dispatcher said.
The large yellow and blue striped balloon deflated on pine trees between two houses.
There were several power lines nearby, but the balloon didn't touch them.
There was possibly a minor injury to one of the passengers, according to the dispatcher.
It was not immediately known what caused the balloon to crash.