This is an archived article and the information in the article may be outdated. Please look at the time stamp on the story to see when it was last updated.
SAN DIEGO – San Diego's horse community is up in arms after the death of a horse in the care of a trainer known for using controversial training methods that some consider a form of torture.
Trainer Mark Arballo was allegedly training a Gunner horse with superb quality bloodlines called Bella Gonnabe Gifted at the River Valley Ranch near the San Diego-Mexico border last weekend when the horse died.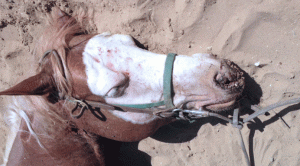 The horse was tied up with a shank bit and apparently panicked, breaking the straps, according to Bethany Wallace, another trainer at the ranch.
"(Arballo) started wailing on it, beating on something," said Wallace. "He was trying to pull and hit something with a long strap."
"I saw Bella lying prostrate on the ground, tacked up and bloody faced," she said. "Her nose was mutilated and bleeding out of her nostrils and one ear. She was unable to move – just groaning."
Bella belonged to ranch owner Martha Torkington, who was not at the property when the incident happened.
Torkington said the training technique, known as "biting up," is common and comes down to differences of philosophy: a heavy hand versus a gentler touch.  Yet, Torkington stressed, a trainer should never leave the horse alone during the process.
"If they get tripped up, they have no way of catching themselves," said Torkington. "All the balance is in their head. They fall over and potentially hit their heads."
Critics of the technique say the practice is just plain animal cruelty.  Horse trainer Christopher Martinez described the horse training technique as a "brutal…torture type device."
Martinez used to work for Torkington, but he left the ranch claiming he witnessed abusive behavior towards the animals and the death of another horse last year under similar circumstances.
"They are so bound — that curb strap is puncturing through the horses chin," said Martinez. "Every horse [at River Valley] has scars from it."
San Diego County Animal Services is investigating the horse deaths.