This is an archived article and the information in the article may be outdated. Please look at the time stamp on the story to see when it was last updated.
CORONADO, Calif. – Jessica Bleigh is one of the hundreds of San Diego military wives whose life dramatically changed after their husbands were injured in war.
She was in her mid-20s raising two small children when her husband Navy Corpsman Tim Bleigh returned from Afghanistan in 2011 injured.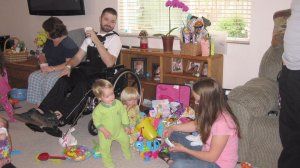 "It put almost the entire load on her, which doesn't register while it's going on, but I look back and think about everything she did. I was like third or fourth kid," he said.
Jessica Bleigh admitted the rollercoaster of emotions she has being the main provider of her family.
"You just have to go with the flow and just not pull your hair out and go crazy when you're having a bad day," she said. "You call up your best girlfriend and she just makes you feel better."
Tim Bleigh was working with the Marines when his Humvee exploded from an IED in March 2011. He broke several bones, vertebrae and suffered a traumatic brain injury. He was in the ICU for a month and in the hospital for several more.
"It happened so sudden it didn't register right away," he said. "All of a sudden so much force is upon you. You can't see, you can't do anything really except realize it hurts."
Certainly, there are husbands who are also taking care of their wives who are injured overseas, but military statistics show women are the majority who bare the care-giver responsibility.
The wives of wounded warriors don't often receive recognition, but that is starting to change.
Four years ago, Barbara McNally started a support group specifically for women who had become caretakers for their spouse.
"I don't pretend to understand," she said. "I'm just there to provide a place for encouragement."
"Empty Your Cup" is a quarterly meeting that allows women to relax with programs like yoga, as well as share their stories. McNally hosts a spa day at the Hotel Del Coronado.
For two years, she footed the bill. Then she joined forces with the Wounded Warrior Project and the Armed Services YMCA. The partnership allows for more gatherings and therapy programs.
"I would say they're the silent strength behind our soldiers. We send our soldiers out and they come back with medals and flags. The silent heroes are the wives who wait for them and are there when they're injured," said McNally. "I remember I card I got from one woman. She said I the first person who ever recognized her."
The US Navy Southwest region in San Diego has several support programs for family in its Fleet and Family Support Center, but nothing specifically that caters to women of wounded sailors and marines.
Many are wondering how San Diego's military will be affected with the current talks of sequestration cuts in Congress. If lawmakers can't come up with a deal, $1.2 trillion in cuts will automatically take effect on March 1. About half a trillion will affect the Department of Defense.
Late last year, lawmakers on both sides agreed not to cut programs supporting, physically and mentally, the returning injured troops and the spouses. Many anticipate sequestration cuts to affect defense contractors in San Diego and military size, rather than the support programs.
"It's hard, it's not easy and it was really challenging, but I'm glad he came home. I think it's better than the alternative," said Jessica.
The Beligh's now cycle together through a rehabilitation program through the Naval Medical Center. Tim's injuries have almost healed, though he continues a physical therapy regimen.
Click here for more information on how to get involved with Barbara McNally's and Armed Services YMCA "Empty your Cup."