This is an archived article and the information in the article may be outdated. Please look at the time stamp on the story to see when it was last updated.
SAN DIEGO – The Port of San Diego signed an agreement with the Alpha Project to provide outreach services for the increasing homeless population along the waterfront.
In an effort to find a solution to the growing homeless population along the San Diego Bay, the Port of San Diego commissioner announced Tuesday that they will fund $50,000 for a 6 month partnership with the Alpha Project, a homeless outreach program.
T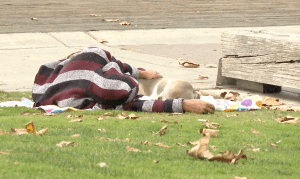 he initiative will connect people living on the streets along Harbor Drive for over 2 years with mental health counselors, job training and shelter.
"What we want to show is the benefit of mobile outreach – where we take the service to the folks," said Alpha Project President Bob McElroy.
In 2012, Harbor Police Department responded to 500 incidents involving the homeless resulting in a cost of $126,000. The number rose by over a hundred calls in 2013 and cost San Diego $161,000.
"Every time we have to deal with one of these incidents, it's money that's going away from other things that we can be doing," said Port of San Diego Commissioner Rafael Castellanos.
The issue is much greater and is getting more costly for taxpayers across San Diego County.
Over $205 million was spent by San Diego County in 2012 on programs targeted specifically for homeless or at risk of being homeless. The cost grew to $309 million a year later.