This is an archived article and the information in the article may be outdated. Please look at the time stamp on the story to see when it was last updated.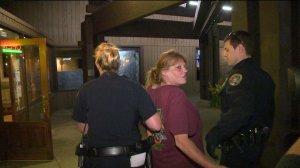 SAN DIEGO — A homeless woman accused of fatally stabbing her longtime boyfriend in Grantville near the San Diego River pleaded not guilty Friday to a murder charge.
Jayne Marie Colantonio, 47, was ordered held on $1 million bail.
Deputy District Attorney Teresa Santana told Judge David Szumowski that Colantonio and the victim had been drinking all day Tuesday when they got into an argument.
Colantonio allegedly stabbed the victim and he walked away and died, the prosecutor said.
Around 6 p.m., a fisherman saw the victim's body in the San Diego River near the Friars Road bridge. During resuscitation efforts, paramedics found a stab wound in his chest, homicide Sgt. Manuel Del Toro said.
The identify of the victim, who was in his 40s, was withheld pending family notification.
Santana said the couple had moved to San Diego from Florida about five years ago and both were homeless.
A status conference was scheduled for March 28.