This is an archived article and the information in the article may be outdated. Please look at the time stamp on the story to see when it was last updated.
SAN DIEGO – Someone assaulted a homeless man with a hammer in the East Village Wednesday morning, in what police are calling a 'brazen attack.'
The man was walking on the sidewalk at 10th Ave. and G Street around 6 a.m. when a stranger approached him and struck him in the head with a hammer.
The victim was taken to the hospital. The extent of his injuries is not yet known, but are not life-threatening.
The suspect in Wednesday's assault is described as a white male, wearing blue jeans and riding a bike. Around 11 a.m., San Diego police tweeted that the attack doesn't appear to be related to recent assaults on homeless men.
San Diego police tell FOX 5 that they are aware the timing coincides with the release of a former high-profile suspect in a series of homeless attacks, but thanks to witness accounts, say the hammer attack does not appear to be related to the series of homeless murders.
"In our other cases involving the homeless that are sleeping on these attacks that I'm investigating is that the victim today was not sleeping — he was walking," said Lt. Martha Sainz.
Gordon, who was homeless for nearly 20 years, says the news of the murders is unnerving.
"I hope they catch the guy, seriously, " he said.
Gordon now has a place to stay but says his friends who are still living on the streets tell him they are fearful.
" I would sleep with one eye open or I'd stay awake all night," Gordon said.
**CRIME UPDATE** We do not believe this morning's attack at 800 G st. on a homeless man to be related to our recent homicide series.

— San Diego Police Department (@SanDiegoPD) July 13, 2016
On Monday, Anthony Padgett, a 36-year-old man who was accused of carrying out a fiery crime spree in which three homeless men were killed and fourth was gravely injured, was released from jail.
San Diego police said after processing evidence, they had to release Padgett and renewed calls for information about the attacks from the public.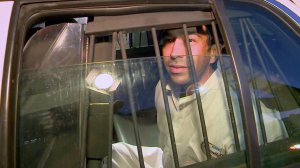 Investigators originally said they were convinced that Padgett was the man seen in surveillance video buying gasoline at a convenience store shortly before the body of the first victim, 53-year-old Angelo De Nardo of San Diego, was found the morning of July 3 in an open area off the 2700 block of Morena Boulevard in Bay Park. An autopsy determined that De Nardo died prior to being set on fire.
Padgett was also accused of severely wounding 61-year-old Manuel Mason in an area near Valley View Casino Center in the Midway district shortly before 5 a.m. on the Fourth of July and killing 41-year-old Shawn Longley, whose body was found the same day at a park on Bacon Street in Ocean Beach. Police said he also attacked 23-year-old Dionicio Derek Vahidy in the area of Broadway and State Street last Wednesday. Vahidy died in a hospital Sunday afternoon.