This is an archived article and the information in the article may be outdated. Please look at the time stamp on the story to see when it was last updated.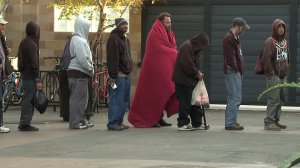 SAN DIEGO – Some people living on the streets of San Diego were able to escape the blustery winter weather Sunday.
"It's cold out there – you can't have people sleeping on the streets in this weather," Rita Latham of St. Vincent de Paul Villages
The cold weather caused St. Vincent de Paul Villages shelter quickly filled up Sunday.
"We're ready for all of them.  We've got plenty of blankets, cots – lots of support," Latham said.
These people are living in such harsh conditions and are very grateful for something as simple as a hot meal and a night off the frigid streets.
"The pavement is cold. You have to have plenty of bedding, a sleeping bag is helpful, but you're fighting to get to sleep at night because it's so cold," said Raul Magan, a homeless man.
"I'd probably be under a bridge building a fire," said Terry Davis, who has been living on the streets.
While the cold snap is an unusual added burden to the homeless – it's also an opportunity for workers and volunteers to reach out and help others.
"You do get a lot of positive feedback from people – happy you brought them in off the streets," George Rew of St. Vincent de Paul Villages said.
This cold shelter opened Friday and can hold up to nearly 170 people, but if more come, workers say no one will be turned away. They will find room.
"We're going through tonight and tomorrow night, then we'll see how the weather holds up through the week," Rew said.  "We may open next weekend as well."