This is an archived article and the information in the article may be outdated. Please look at the time stamp on the story to see when it was last updated.
SAN DIEGO – A multimillion-dollar U.S. Customs and Border Protection drone was intentionally crashed into the Pacific Ocean about 20 miles southwest of Point Loma after developing mechanical problems, federal officials said Tuesday.
CPB fight controllers ditched the unmanned aircraft at about 11:15 p.m. Monday, according to agency spokesman Michael Friel.
The OAM Predator B was intentionally crashed off the coast of Point Loma due to mechanical failure, according to Jim Kidrick, a board member for the Air Law Institute, a group dedicated to furthering the conversation about the use of drones.
"There was an unknown mechanical failure of some kind that lead them to the decision to ditch it in the water versus fly it back to Arizona," said Kidrick, a 21-year retired navy pilot and advocate for the use of UAS.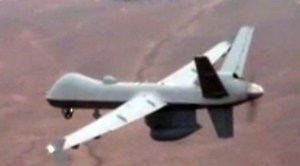 The unarmed surveillance planes cost about $20 million each, according to the nonprofit Washington, D.C.-based Center for International Policy. The aircraft was part of a fleet of six drones built by San Diego based General Dynamics.
The drone was patrolling the coastline when it malfunctioned, after which its controllers determined they would be unable to fly it back to its home base at Libby Army Airfield in Sierra Vista, Ariz., Friel said.
The unarmed drone is one of 10 operated by the agency. It was modified from the standard model with structural, avionics and communications enhancements, as well as the addition of a marine-search radar and an electro- optical/infrared sensor optimized for sea-overflight operations, according to Customs and Border Protection.
It was not immediately clear why the aircraft was being operated in the San Diego border sector, but CBP has increased surveillance of the waters off San Diego in recent months to help intercept small boats smuggling drugs and immigrants from Mexico.
Pedro Rios, director of American Friends Service Committee, said he would like to see the drone program shelved altogether, calling it unsafe, without oversight and a violation of privacy.
"The crash could have happened in a much more populated area – a place where it might not have been an area to land it safely – placing people at risk," Rios said. "CBP agents are not properly trained to manage or control the drones."
CBP issued a statement explaining what happened and announced they will ground their entire fleet of unmanned aircraft pending an investigation.
The Coast Guard sent a cutter to secure the crash site while CPB agents recovered the wrecked drone. The recovery effort went on until about 5 a.m.