This is an archived article and the information in the article may be outdated. Please look at the time stamp on the story to see when it was last updated.
SAN YSIDRO, Calif. — A one-time amateur boxer introduced the sweet science of his sport to neighborhood kids by transforming his home into a boxing gym.
The sounds of boxing echo out of a garage door and through a San Ysidro neighborhood thanks to Javier Castillo.
"We're Hometeam Boxing," Castillo said. "We started this about a year-and-a-half ago. Our purpose was to work with kids, try and keep them off the streets, help them use boxing as part of self-defense, self-discipline and self-confidence. And it's working out so far."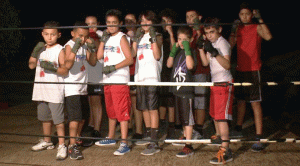 Castillo said he started out with one punching bag for three kids and it grew into a garage full of sparring and work out equipment, plus a boxing ring in the back yard. Now, 14 kids from as far away as Mira Mesa join Castillo for workouts three times a week.
"Walking with my friends around here, I saw them training every day," said 14-year-old Anthony Lopez. "I said, 'Boxing, that's a pretty good sport.' One day I just came over here and said, 'can I sign up?'"
Castillo welcomed everyone, as long as they kept good grades in school, showed respect for their parents and stuck with it.
"I thought, 'These kids are going to quit on me the first week or the second week,'" Castillo said. "This is a tough sport."
Instead, he found that the tough sport lured more kids in off the streets.
"I would come watch my brother, because he would come before me, and I would watch what he did," said 14-year-old Janelle "Koko" Cosio. "I watched him spar and it was pretty interesting so I would want to try."
"I think it's great," said Noel Trejo, who brings his son to Hometeam Boxing. "It's real selfless of (Castillo) to do this. I don't know any other place that really does what he's doing right now. I really appreciate it. I'm thankful that I finally came. It took me about a year after I was told about it. I wish I would have brought my son earlier."
Castillo, himself a father of four, would love to see his young students box at the amateur level and beyond.
But more than anything, he wants to see them make good choices and maybe one day follow his example.
"I started doing this because someone did it for me," Castillo said. "I'm just passing it forward. And I'm hoping that these kids can see it and they will do the same thing."