This is an archived article and the information in the article may be outdated. Please look at the time stamp on the story to see when it was last updated.
SAN DIEGO -- A half-dozen youths -- four of them documented gang members -- were in custody Thursday for allegedly carrying out a series of residential robberies during which some victims were tied up and threatened with guns in their northern San Diego residences.
Arrested Wednesday evening in connection with the four home-invasion crimes, one of which also involved a sex assault, were Stephen Ramon Gomez, 20, Victor Fransisco Harvey, 19, Aaron David Rico, 20, Robin Elizabeth Shawver, 20, Thomas James Smith, 24, and a 17-year-old whose name was withheld because he is a minor, according to San Diego police.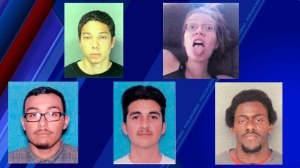 "These dangerous criminals brought fear to our city,'' Police Chief Shelley Zimmerman told reporters during a midday briefing. "They entered our homes during the night while we slept, boldly confronting anyone inside. They terrorized our citizens, escalating their violence as their crime spree continued.''
Gomez, Rico, Shawver and Smith were each booked on multiple robbery charges, according to jail records. Gomez, Rico and Shawver also face kidnapping charges; Gomez and Shawver a conspiracy charge; and Harvey a charge of receiving stolen property.
Gomez also is accused of committing rape with a foreign object during one of the burglaries, Capt. David Nieslit said.
The arrests came a week after homes in the Sabre Springs and Carmel Mountain Ranch neighborhoods were looted with residents present. In each case, the perpetrators entered through unlocked doors.
The most recent of the crimes occurred in the 14000 block of Breezeway Place near Cedarhurst Lane shortly before 5:30 a.m. last Thursday, according to police. It took place about five miles from where a trio of thieves entered a home in the 11300 block of Spring Meadow Lane through a side door less than three hours earlier.
Details on 7 arrested for a string of north county home invasions. Live streaming on .@fox5sandiego at noon and 1 pm pic.twitter.com/9cijSIAj78

— Robert Burns (@RobertBurnsTV) February 18, 2016
The suspects also have been linked to a similar robbery that took place in the 11400 block of Aliento Court in Rancho Bernardo on Feb. 5, and another that occurred in the 10700 block of Passerine Way in Sorrento Valley on Jan. 31, according to police.
"This is something, as you can imagine, that caused a lot of grief among my constituents,'' District 5 Councilman Mark Kersey told reporters during the news conference outside downtown SDPD headquarters.
The case serves as a stark reminder that citizens must "remain vigilant,'' the councilman said.
"This is not the 1950s,'' he said. "You need to keep your doors locked at night.''
While conducting searches as part of the investigation, detectives impounded two replica guns believed to have been used during the robberies, the captain said.
The adult suspects were scheduled to be arraigned Friday afternoon. It was not immediately clear when the minor would make his first court appearance in the case.
Police did not disclose how they identified the suspects and would not specify which of them allegedly have gang ties.