This is an archived article and the information in the article may be outdated. Please look at the time stamp on the story to see when it was last updated.
SAN DIEGO – San Diego International Airport officials are expecting at least 75 flights will be delayed or cancelled by the end of Friday.
Depending on weather conditions nationwide the delays and cancellations could continue throughout the weekend.
Candace Rust flew into San Diego to spend the holidays with family. She was fortunate to avoid the major delays.
"My flight was only delayed an hour," said Rust. "So it wasn't that bad."
Before heading to the airport you can check the status of your flight online, but officials said the status is subject to change.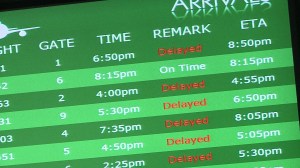 "Often times it will say delayed," said Steve Shultz, San Diego International Airport spokesperson. "And there won't be an indicated time that the arrival or departure will be. Sometimes those end up being cancellations, but the airlines will initially put delayed until they know for sure that the flight is going to be cancelled."
Officials are asking passengers to arrive at least an hour and a half early. Be prepared for lines and be patient.
Traveler Carolyn Conroy arrived in San Diego Friday afternoon and said she experienced crowds at her home airport.
"There were lots of cancellations yesterday," said Conroy. "So it was very, very crowded. The airports were very crowded."
If you're traveling with gifts, authorities suggest you hold off on wrapping them in case security officers need to take a closer look. Once you're through security, San Diego International Airport is offering free gift wrapping at designated locations.
The roads will also be busy this weekend.
The Automobile Club of Southern California is predicting more 6.5 million Southern Californians will be driving to destinations over Christmas and New Years. The organization said that's a 1.4-percent increase from last year.
Fortunately those drivers are getting the gift of lower gas prices. The organization said over the last week Southern California drivers have been paying the lowest gas prices of 2012 after ten straight weeks of price drops.
"I know there's been trouble with the refineries," said John Powell, Point Loma resident. "But it's great to have them go down. It helps a lot of us."