This is an archived article and the information in the article may be outdated. Please look at the time stamp on the story to see when it was last updated.
SAN DIEGO – Thousands of football fans made their way to San Diego this week for Monday's National University Holiday Bowl.
This year Qualcomm Stadium welcomed Texas Tech and Arizona State for the annual college football game.
The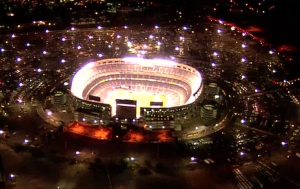 warm San Diego day brought tailgaters to the parking lot early Monday afternoon.
Arizona State fan Cecilia Martinez was part of a large tailgate with family and friends. Her group traveled to San Diego together in a motor home.
"We have so much fun with all the family coming," said Martinez. "I've got my nieces and nephews and my kids out here, my parents and a whole bunch of friends and family. We just have a good time. We love it."
At a nearby Texas Tech tailgate some family members traveled from as far as England to watch the game. For Craig Winton, the San Diegan among the bunch, seeing Texas Tech play at Qualcomm was long awaited.
"We went to the 2004 Holiday Bowl," said Winton. "I moved out here in 2005 so I've been waiting every year for them to come back. It's a dream come true for them to come here."
The annual event generates millions of dollars for the local economy. The revenue, coupled with revenue from the Poinsettia Bowl, is a huge boon for San Diego.
"Both the Poinsettia Bowl and the Holiday Bowl are incredibly important for our regional economy. They generate about $30 million in economic impact and bring tens of thousands of visitors here to San Diego at a time when our industry is a little bit slow because of the holidays. It just makes a huge bit of difference."
The Holiday Bowl has been taking place in San Diego since 1978.