This is an archived article and the information in the article may be outdated. Please look at the time stamp on the story to see when it was last updated.
SAN DIEGO- San Diego's newest charter school will share the most prestigious address with the brand new Central Library in downtown.
E3 Civic High School is located on the library's sixth and seventh floors and boasts spectacular views of the city.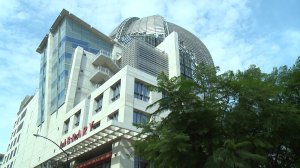 "We are teaching a 21st century education here and digital literacy is critical," said E3 Executive Director Dr. Helen Griffith.
The classrooms look less like school and more like the Google campus in Northern California.
"The space is made to have the students collaborate," Griffith said.
The classes this year are only for ninth and tenth grade students with a handful of spots open for the sophomore class. When the school is fully operational it will hold around 250 kids in grades 9 through 12.
E3 classes officially start Tuesday.