This is an archived article and the information in the article may be outdated. Please look at the time stamp on the story to see when it was last updated.
SAN DIEGO – A heroic dog that saved a puppy from a coyote a few weeks ago is finally finding its forever home and being honored in a big way.
Sophie, the 15-pound malti-poo, was attacked by a coyote and suffered injuries to her neck, head and back. She healed quickly and the search for her new home began.
The annual Mardi-Paws celebration and parade took place Tuesday at the Helen Woodward Animal Center with Sophie leading as the Grand Marshall.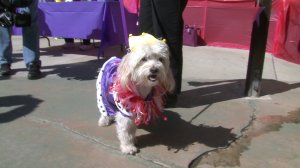 At the end of the parade the little pup was greeted by her new family, Navy service member Kelly Hallmark and her young daughter Madison.
"So many people heard about this story and we had hundreds of essays coming in. We narrowed it down to about 10 and sent it over to adoptions. They found a wonderful woman," said Jessica Gercke , spokeswoman for HWAC.
In her essay, Hallmark wrote about losing her dog to cancer and being an animal lover. She's always adopted and was happy to have a new home for Sophie.
"We have a hole in our heart from our two dogs that passed away tragically. When we saw Sophie's story and saw that she was such a heroin we thought she's a perfect fit for our family," Hallmark said.
Dozens of other dogs, dressed in costume, and complete with floats walked through the Fat Tuesday parade. Representatives at Helen Woodward hope Sophie's story will help promote pet adoption nationwide.